Liposuction of lipedema
Lipedema literally means fat and fluid accumulation. Lipedema is a painful and chronic disease. It is an official disease for which there is no medicine at present. Lipedema causes an abnormal build-up of fatty tissue. Also, the drainage of fluid through the lymphatic system is not optimal. This results in the accumulation of fat (lip) and fluid (oedema) under the skin.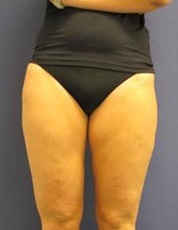 Lipodema usually develops symmetrically on the hips, thighs and knees. The condition is often characterised by enlarged legs, which remain enlarged even when losing weight. They often take the shape of riding breeches. Sometimes the fatty tissue accumulates around the ankles (creating a band-like appearance above the ankles). The arms may also be affected. However, the hands and feet are never affected by lipedema (as opposed to lymphoedema). If lipedema is not treated, lymphoedema (fluid retention) will often develop over a 15-year period. We call this lipo-lymphoedema.
There is still much uncertainty about the development of lipedema. What is known is that the condition usually only affects women. Lipedema is not caused by overeating. After all, eating too much for a long period of time causes obesity and that is another medical condition. Moreover, there is evidence that genetic factors play an important role.
Specialised clinic
Mr Boonen, Mr Adamo, Mr Visser and Mr den Hengst of Polikliniek de Blaak are physicians specialised in lipedema who have been treating lipedema with liposuction since 2005. Because of their many years of experience and the expertise gained throughout these years, the treatment has been optimised continuously. We treat thighs, knees, ankles, hips and arms that are enlarged as a result of fat accumulation.
Liposuction of lipedema
Liposuction of lipedema at Polikliniek de Blaak is performed under local anaesthesia. This has the advantage that the lymphatic vessels do not get damaged, unlike with liposuction under general anaesthesia. The procedure takes approximately two hours, depending on the number of areas to be treated. The anaesthetic solution is introduced under the skin through a thin tube. This solution will sit between the fat cells. The fat cells are then sucked out through a cannula. For the best result, multiple treatments are usually required.
Results after the operation RESULTS AFTER THE OPERATION
After a recovery period of several weeks, the lipedema patient will notice major improvements. Fatigue diminishes, pain disappears, muscle strength increases, the legs no longer rub against each other, bruising is less likely to occur and a normal shop can be visited again to buy clothes. The body proportions are brought back to normal proportions and the self-esteem of patients is greatly enhanced because of the disappearance of the fat accumulation.
Photo: before and after the liposuction of lipedema

WHAT OUR CLIENTS SAY:

MY EXPERIENCE AS A PATIENT WITH LIPEDEMA

My GP told me: "If you want to have the lipedema treated, I would strongly recommend you to go to doctor Boonen of Polikliniek De Blaak in Rotterdam.

Kim after a lipedema treatment

THE LIPEDEMA SPECIALISTS AT POLIKLINIEK DE BLAAK
The physicians below are specialised in the treatment of lipedema with liposuction: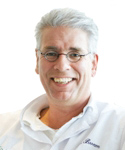 ROBERT BOONEN, MD
Phlebologist and physician in cosmetic medicine
– Lipedema specialist
– Phlebology (treatment of varicose veins)
– Duplex (echo doppler)
Robert S.M. Boonen, MD, is General Director of Stichting Polikliniek de Blaak, founded in 1991.
Robert Boonen studied medicine at the University of Leiden. As a student, he completed several internships at foreign universities, including Yale University in America. After graduating, he worked for two years as an assistant gynaecologist, but decided to switch to phlebology in 1991. He completed his training in phlebology in Rotterdam.
During that time, he performed more than 60,000 phlebology (varicose vein) treatments.
Inspired by the aesthetic success of the phlebology treatments, he started to specialise in aesthetic medicine. He is especially interested in the treatment of lipedema.
He has been a member of The American College of Phlebology and the European Venous Forum since 2009.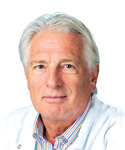 CHRIS DEN HENGST, MB BS
Dermatologist and cosmetic physician
– Dermatology
– Cosmetic surgery
– Lipedema specialist
Chris den Hengst studied medicine at the University of Utrecht. After his doctor's training, he worked for 3 years as a senior house officer in the dermatology department of the Army Hospital Dr. A. Mathijssen. After that, he trained as a dermatologist in the Academic Hospital in Utrecht. He then established himself as a dermatologist in Woerden, where he worked until 1 January 2018. In addition, he worked from 1998 to 2006 in the Velthuis clinic in Rotterdam, and already worked from 2006 to 2009 at Polikliniek de Blaak.
From 2010 to 2016 he was affiliated with the UMC Utrecht where he taught dermatosurgery to physicians training to become dermatologists. Since 2010 he has also been working at the Kiewiet de Jonge Kliniek in Noordwijk. Within the field of dermatology, his areas of interests are mainly psoriasis, oncology and dermatosurgery.
Within the field of cosmetic surgery, he has performed more than 3,000 liposuctions, including liposuctions for lipedema on the legs and hips. Together with doctor Boonen, he has performed many abdominoplasty procedures (tummy tuck surgery) under local anaesthesia. He also has extensive experience with eyelid corrections.
At Polikliniek de Blaak he mainly treats lipedema.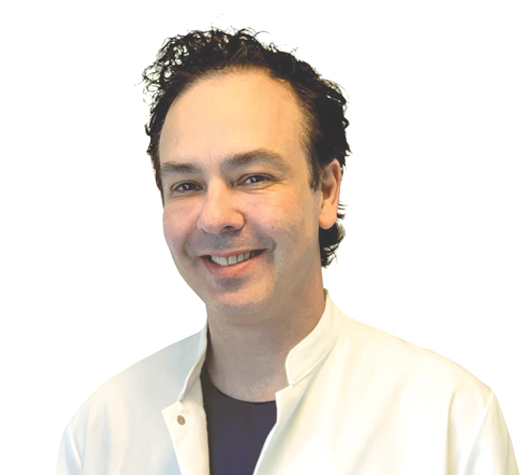 NATALE ADAMO, MB BS
– Cosmetic surgery
– Lipedema specialist
Natale Adamo is a general practitioner, cosmetic physician and co-founder of Huisartskliniek and Ivy Clinics. He graduated in 1999 as a general practitioner and worked as a general practitioner in Doesburg until 2018. Since 2009, in addition to his work as a general practitioner, he has been very active in the area of his passion: aesthetic medicine.
Natale is highly skilled in performing injectable treatments, eyelid corrections (of both the upper and lower eyelids) and other surgical procedures, such as earlobe correction and earlobe reduction, mini facelifts and many other surgical treatments. He has also gained extensive experience in performing liposuctions, both for cosmetic purposes and to treat fat accumulation caused by lipedema.
Natale works 1.5 days a week at Polikliniek de Blaak. The other days he works within his own concept Ivy Clinics. He is also active as a board member of the surgery domain group of the NVCG (Dutch Association of Cosmetic Medicine).


MICHEL VISSER (PhD)
– Cosmetic surgery
– Lipedema specialist
– Vascular surgeon
Michel Visser studied medicine at the University of Leiden.  He graduated cum laude in 1988. He then carried out experimental vascular surgery PhD research. In 1992 he started training as a general surgeon at the LUMC in Leiden and the Haga hospital in The Hague. In 2000 he completed the two-year follow-up course (CHIVO) in vascular surgery, also at the LUMC. Then Dr. Visser worked as a vascular surgeon and as a general surgeon at hospitals in Leiden and Amsterdam (LUMC, Alrijne hospital and OLVG). He has also been involved in surgery and education since 2010 in a small district hospital in Tanzania (St. Kizito Hospital, Mikumi). Since January 2020 he has been working as a (cosmetic) surgeon at the Polikliniek de Blaak clinic.


Photo: before and after the liposuction of lipedema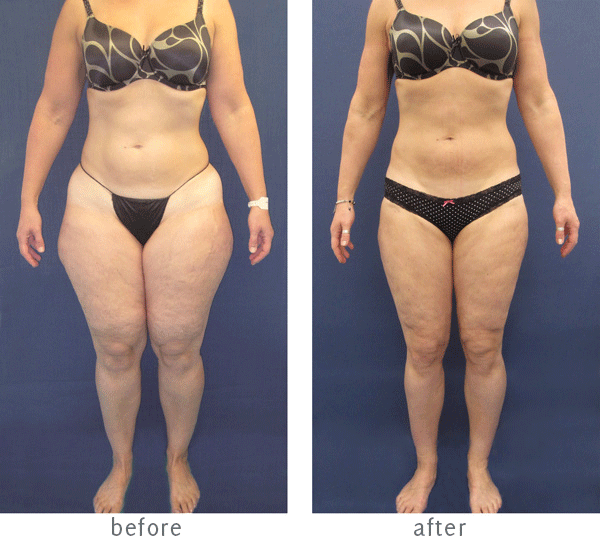 INFORMATION FOR FOREIGN PATIENTS
Polikliniek de Blaak regularly treats patients from abroad. The course of treatment for domestic and foreign patients does not differ much, but for foreign patients more needs to be arranged for overnight accommodation. Foreign patients have their own contact person at Polikliniek de Blaak who will help them with the reservation of accommodation. Below we have described the course of treatment for the liposuction of lipedema of the upper legs, hips, knees, arms or ankles.
BEFORE THE OPERATION
If you decide to undergo liposculpture, you will first need to discuss your medication use with the physician. The use of aspirin or salicylates is not allowed. Before the operation, a blood test may be performed and the physician may decide to make an electrocardiogram (ECG), to determine how much anaesthetic solution he needs to use. Before the lipedema procedure we advise you to take a shower, to have a light meal and to wear comfortable clothing. It is not allowed to use alcohol on the day before the operation and the day of the operation.

THE TREATMENT OF LIPEDEMA
The operation will take approximately two hours, depending on the number of areas that need to be treated. Your legs or hips will be anaesthetised locally. The anaesthetic solution is introduced under the skin through a thin tube. This fluid will sit between the fat cells. The fat cells are then sucked out through a cannula.
AFTER THE OPERATION
After the operation you will go to the care hotel. There, a nurse will take care of you. The nurse will be available 24 hours a day, so also at night, but does have a separate room. The costs for the first night in the care hotel are included in the total amount of the treatment. The costs for the other nights at Van der Valk will be charged separately by Van der Valk.
You are not allowed to drive after the procedure, so you must arrange for transport and for someone who will escort you to the care hotel.
You will be given a double room, so that your companion can spend the night with you in the care hotel.
YOUR STAY IN THE CARE HOTEL
After the operation, the client will stay one night in the Care unit of Hotel Van der Valk Blijdorp. The patient is free to book a hotel of their own choice for the night before the operation. From the 2nd night after the operation, a regular room at Van der Valk will be arranged for you. The costs for this room are to be borne by the patient. Depending on the duration of your journey back home and the means of transport, your physician will determine how long you need to stay in the Netherlands. This is shown schematically below. The client will arrange for a companion. The client is not allowed to drive after the procedure.
For the stay in the patient's room in the care hotel, the companion of the patient will pay € 75 at check-out at Van der Valk Blijdorp. This amount includes 1 dinner, 1 breakfast and 3 drinks.
The other nights at Van der Valk must be booked by the patient well in advance. The patient must be able to prove that these nights were booked.
TO CONCLUDE
On this page the information about the procedure for vibroliposuction to treat lipedema has been kept concise. This information does not guarantee similar results and your results may vary.
Would you like to know more about vibroliposuction to treat lipedema on your hips, arms, knees, thighs or ankles? Do not hesitate to make an appointment with one of our doctors. They will be pleased to answer all your questions.
Intake interviews for the treatment of lipedema take place in the following branches of Polikliniek de Blaak: Rotterdam, Tilburg and Rijswijk. The operation itself will take place in Rotterdam.
PRICE LIST LIPEDEMA LIPOSUCTION
More information or make an appointment
Foreign patients can ask their questions via the form below. If you want to make an appointment with our doctor you can leave your details with us via this form. We will contact you.